Introducing: Funeral Party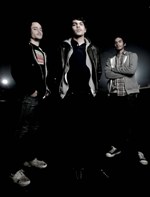 One of the late additions to the line-up is Funeral Party from East Los Angeles. Relative unknowns to many – they've only released a 3-song EP called "Bootleg"- the band are getting lots of attention and big time management as somebody must have figured out they sound a lot like that other youth dance party sensation, MGMT.
We all know how big MGMT has become, even shutting down other Bonaroo stages when they quote/unquote headlined the festival. But seriously, Funeral Party may be a more rocking version of dance-party music, aided in the studio by Mars Volta and touring in support of And You Will Know Us By Our Trail of Dead earlier this year. The latter, teaching this young band a lesson in how to destroy their instruments. This band is so green that don't have a proper music video, just a short promo with some background music to give you a little taste.
And you can check out their myspace
//sean s.