The best 100 songs of all time? Who be the judge?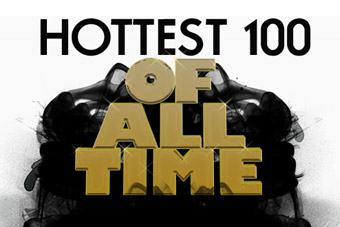 Being the festival it is, you're sure to find a load of Fuji Rock performers past and present making their way onto the list this year.
It's always interesting when a radio station or the like asks their listeners to name the best songs of all time. It depends on the demographic of their listeners as to what will be chosen, but when it comes to JJJ radio, well, their listeners will have a better chance of choosing something interesting than most. "Government Youth Network" Triple J support the music industry and promote the cause of Australian music a lot more than your average commercial network will do.
Their "Hottest 100" is a perennial favourite, counting down the top 100 new songs of each year as voted by their listenership. Aired at the peak of the Aussie summer on Australia Day (January 26th), it has become reason enough to invite all your mates around for a barby and a bunch of beers, and simply turn the radio on all day rather than selecting your own music. 2008s winner was Kings of Leon (who tore up the Green Stage of Fuji Rock in 2007), with Sex on Fire. They also held on to third place with Use Somebody.
This is the fifth Hottest 100 of All Time, the first taking place 20 years back in 1989. Joy Division's Love Will Tear Us Apart took out top spot that time, as it did again in 1990. It then placed second in 1991 behind Nirvana's Smells Like Teen Spirit. Feeling that it could grow stale, the format was changed for the next installment, and voting has since been restricted to songs released in the calendar year prior. An extra "of all time" poll was taken for the 10th anniversary in 1998, where Smells Like Teen Spirit took it out again (Joy Division relegated to a lowly #16). This being the 20th anniversary, the original is returning again for a special mid year showing. Will history repeat?
Listen live through the week of July 7-10 as they count down #100-21 at the rate of 20 a day, and then catch the whole thing on Saturday the 11th and Sunday 12th as they start it all again for those of us who can't listen at work. Don't forget that Australia is an hour ahead of us in Japan at the moment.
Expect a definite Australian bias to the music, but in my opinion, that's not a bad thing at all. There a load of Aussie acts over the years that barely escaped the borders of our fair land. You never know, you might just find something you like!
Find Fuji Rock veteran John Butler's picks for top ten here.
Dom.