Camera Obscura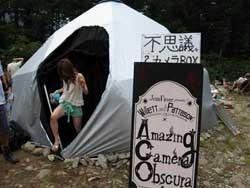 The "Amazing Portable Camera Obscura" has finally made its way to Fuji Rock. A long-term fixture of Glastonbury, the trio of Dominic Patteson Tony Willett and Jem Finer have brought a simplified version of their optical tomfoolery to the festival.
Many may know Jem Finer as the banjo player from The Pogues. When he's not on stage, he's an active installation artists, undertaking multiple projects such as "1,000 Years of Music" and an art installation involving natural water music in Kent.
This year's installation is a specially constructed tent with a multi-directional lens protruding from the top post, providing a view inside the darkened tent. "Camera obscura used to be used by artists to help them compose perspectives in painting. However, it did not help with color, " says Tony Willett.
The camera will be on view near the film stage, and will most probably remain in its location for the duration of the festival, however, if the weather is nice, their may be a chance the camera will be taken on the Dragondola, providing a fantastic view of the entire site. To learn more about this old-fashioned way of looking at the world, please visit the group's website at www.amazingcameraobscura.co.uk.