Spinto spaz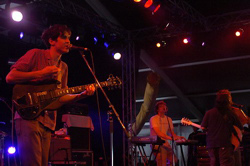 Slackers who arrived at the festival not knowing that Clap Your Hands Say Yeah cancelled a week or so ago might have thought that the indie band of the moment had been reslotted had they walked into The Spinto Band's set at the Red Marquee at lunch time. Dual singer-songwriters Nick Krill and Thomas Hughes aren't that much different from CYHSY leader Alec Ounsworth in the vocal histrionics department but since there's two of them the clueless would probably have figured this out right away.
And if they stayed they would have been treated to what will probably turn out to be one of the most pleasant surprises of the weekend. As spaz-rockers go, these Delawareans are peerless, and matched to their generically peppy guitar pop you've got a formula that is guaranteed to get Japanese youngsters up and hopping in no time. For forty full minutes the Red Marquee didn't pause for a breath.
With three guitarists, a keyboardist, and a bass player who can double on either of those, the Spintos have chops to burn, but they're mainly into riffs: the synth-driven "Spy vs. Spy" and the similarly titled "Trust vs. Mistrust" barrel ahead on ironclad guitar patterns that never bother to detour for a chorus or a bridge. Dynamically, the Spintos have their pause-and-attack skills down, and the energy level in the audience reached heights of explosive ecstasy during the disco-ready "Crack the Whip" as all the guitar slingers on staged freaked out in their own chosen way. Whatever limits Krill and Hughes possess as singers, no one could accuse them of not trying--or enjoying the effort. Hughes, in particular would clench his arms against his side as if he couldn't contain himself, and the rail-thin Krill's truncated windmills made you fear for his delicate digits.
Of course, much of the band's appeal, especially for the Japanese girls in the audience, was the members' callow artlessness. "We're the Spinto Band," Krill said, "we do exist." (Hey, they're from Delaware.) And so the spazzing seemed not merely justifiable, but sort of characteristic. The hyper "Oh, Mandy" would have been nothing without the pinball spectacle of all six Spintos twitching in a kind of weird awkward unison. "It's been insane," Krill said after the last song. And that's the way we like it.