In the Mix: Blendz Makes Home-Grown Hip-Hop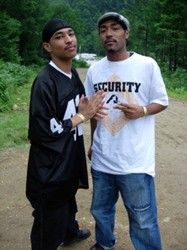 Hitching a ride on the back road between Red Marquee and White stage, I jumped into a van with who I assumed to be US soldiers here working as security. I was half right. Yes, they're doing security detail, but they didn't ride up here from Yokosuka Air Force base or any other. Nope. They grew up here, the offspring of mixed parentage. Hip hop was cranked on the staff van's sound system, and it still sounded good. And familiar. When I asked where I might have heard it, they mention the Yokohama Baystars' stadium. Oh, and by the way, he says. "That's us."
MC Reggie (left) and Igor (right) are half of the DJ/MC troupe, Blendz, a home-grown hip hop group comprised of half-black, half-Japanese emcees, and as serendipity would have it, they have a release coming out August 23rd. They tell me their release party will be held at Club Logos in Yokohama (some of the Baystars will be there, too, if you're a fan).