Motormouth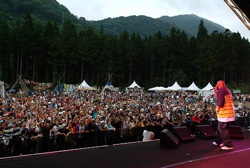 Through a perverse bit of serendipity, Gnarls Barkley and Blackalicious were scheduled within twenty minutes of each other on consecutive stages. The similarities have less to do with style--Gnarls' lead singer Cee-Lo Green was a rapper with the Goodie Mobb but with Gnarls he's into rock and soul--than with image. Both Cee-Lo and Blackalicious's MC the Gift of Gab are rotund and bald. The difference ends there.
As emphasized by the title of their last album, "The Craft," Blackalicious digs skills, and while their lyrics stress social importance and poetic creativity, their main appeal is a facility with the kind of verbal gymnastics that hightlighted hip-hop battles before gangsta attitude highjacked style. Several years ago, when GOG and his DJ, Chief Excel, were on a major label, they brought a band and chick singers to the White Stage, but this time in the Field of Heaven it was just the two of them, and they showed they could carry a crowd with their skills.
Always conscientious, GOG was careful to give a shout-out to Asia after the requisite boosts for Fuji and Japan. Though the crowd didn't know initially what to do with GOG's vocal tricks, they could connect with Chief Excel's catalogue of funk tropes. GOG would eventually bring the audience into his realm, patiently teaching them the "deedle-dee-dees" and "woo-oos" for his demonstration of verbal agility. And he floored 'em. "Be true to yourself and stay humble," he said later. You can only say that when you've got the chops to back it up.