10-Feet ... Starting The Day Off Right!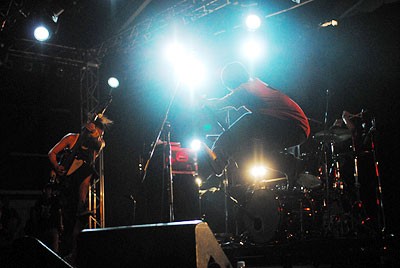 10-Feet got things rolling at Red Marquee with a whole lot of infectious pop-punk. A large crowd of mostly Japanese spectators made their way into the tented area to celebrate the opening of FRF '06 with guitarist Takuma, bassist Naoki, and drummer Kouichi.

Formed in Kyoto in 1997, the Tokyo-based act turned in an energetic set and did a formidable job of getting the audience involved early on. Already primed up for a weekend of fun, Takuma engaged the crowd in a lot of call and response chants at the beginning of the show and continued to so as things progressed. With everyone yelling along, the trio had little trouble getting the hyperactive kids up front jumping and the laidback fans in the back dancing along to their punk anthems.
10-Feet mixed selections from their new album Twister, due out on August 16, with favourites from their previous three discs. Showcasing their wide array of musical tastes, many of the songs included small elements of metal and reggae, helping to add a bit of diversity to their pop-punk sound. Possessing a strong vocal range, Takuma switched his pitch during some of the songs, adopting a deep, animated, almost menacing (but in a playful manner) voice.
Following the lead of the crowd, Takuma and Naoki happily bounced around while playing. At one point the two dropped to their knees and began crawling across the stage while the audience cheered them on. Natural entertainers, 10-Feet did an excellent job of putting smiles on the faces of all the early arrivess at Red Marquee


Shawn