Where they at?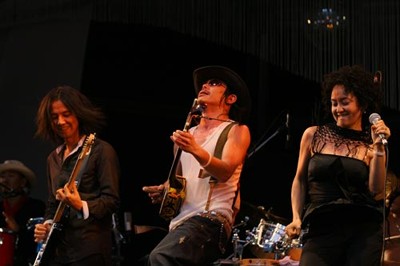 Ganga Zumba. Ganga Zumba! Ganga Zumba. Ganga Zumba! Ganga Zumba. Ganga Zumba! Ganga Zumba. Ganga Zumba!
Ganga Zumba, what the hell? Ganga Zumba, talk about genre bending, talk about category defying. Here, let's start with the stage. Three percusionists, check -- guy closest to the front of the stage is ratatatating it out on one drum at a time mostly, so you know they are serious about the sound they're making. Keyboards, bass, chill guitarist, electric violin and trumpet. They're hanging out with a carnival march, rumbling bass line and dirty, dirty Latin horns.
And that's before the singers storm the stage two songs in, an urban cowboy in suspenders and a cocktail vamp in black netting. With a squelch of violin feedback, cowboy starts to sing in Egyptian tongues -- at the Field of Heaven you have stumbled on the what looks like the house band for Tarantino's next Mexican vampire road flick.
From J-pop lyrics to Spanish rap, English dancehall chants to Wild West yelps, we're border crossing from ska to enka. Percussion takes over, putting the Field deep in live dub, straight out of Japan, Brazil, Colorado. Don't make no sense, don't need to. The singers strap on samisen and the ancient plucking calls out an a mountain island ancestral sound that would be equally at home anywhere the old world still reveals itself.
So Ganga Zumba give you reggae and J-pop, Cantina and Celts. Put them on the stereo, throw yr best friends in the car and drive down the shoreline. You know you'll have as good a time getting to the beach as being there. Ganga Zumba. Ganga Zumba!