They Wanna: Franz Ferdinand Take Us Out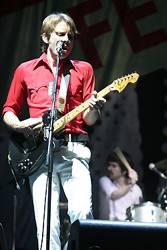 Alex Kapranos's locks are longer than his last Japanese appearance this past winter, but as he and Franz Ferdinand proved tonight, they appear no older or less enthusiastic. Then Green Stage is for headliners, and Franz proved 2 years ago at their first FRF that they can draw a crowd. And an attractive one, to boot.
The band has said their first album was to make women dance, and their second to make them cry. Whatever they're doing, women are certainly reacting. The male/female ratio around me was skewed sharply towards the gentler gender (ha), and everyone around me shrieked at every side comment or coy lyric (the "Buttons of my blazer" one prompted the loudest squeal of all). If it gives you an idea of their popularity, when they performed a DJ gig here earlier this year, there was a line of young women around the block. Yet despite the attention, they seem to be quite cordial. I saw Kapranos at an M.I.A. show smiling and shaking hands with anyone who approached. [addition: same thing happened last night at Palace of Wonder].
Kapranos has accepted his success, singing "the smile comes so easy now." He's right. Over the last few years they've perfected their heartthrob moves, grinning, jumping and kicking at all the right moments (and then a few more). It certainly got a reaction, especially during numbers like "Dark of the Matinee," "Ellinor Put Your Boots On" and "Do You Wanna," an obvious favorite that had people jumping all the way back to the woods.
Anyone who has seen Franz before knows that Kapranos isn't the only dramatic one. He shares equal billing with lead guitarist, Nick McCarthy, who never hesitates to engage the audience. They both tried to share the spotlight during roll call, however. Kapranos announced that a tour guitarist, had just become a father. "He's the first father of Franz Ferdinand" he proudly announced, "That's a lot of F's"
Despite the language barrier, the crowd was with them through nearly every hit, the best example being "Take Me Out," when the band stopped suddenly and the crowd belted the chorus, unprompted, for four bars. As I stood in the crush of nubile flesh surrounding me I thought to myself: it's time to buy some white pants.