Gaz's Rock 'n' Blues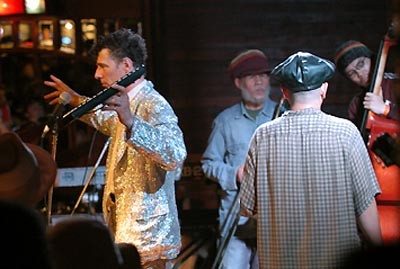 I ran into a second unscheduled performance today. This time a DJ session by Gaz Mayall at the Big Cake tent in the World Restaurant area. The Palace of Wonder had not yet opened so all the usual suspects from that area were milling around out the back of Solomon's Queen Shiba restaurant tent, among them Gaz, who just happened to have brought a box full of 7" vinyl with him. And, so, he was set for a quick spin on the Big Cake decks.
He started with a couple of wicked little Irish jigs that had anyone within earshot instantly dancing on the spot. Then he slipped gears a notch and hit us with the jazz classic Take 5. From there he lived up to his rock 'n' blues genre jumping rep and plied us with obscure Latin and Afro-Cuban cuts, full of crackles and scratches, which only added to their charm. But the piece de resistance was a whacky cover of Wild Thing which started with an intro proclaiming, "This is take 72 - dedicated to the Democrats." And got even funkier and weirder from there. All up, a very genki groove...
Report by sisterchill