Straightened Me Right Out!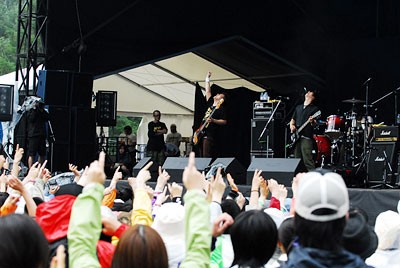 With the rain falling steadily, Straightner took to the White Stage for the Saturday afternoon gig. Feeling a little dreary and wet, my troubles were instantly cleared awayed as the group kicked into their infectious set of J-punk.

Formed in 1998, the extremely prolific Tokyo trio has released seven full-length albums. Touring behind their most recent effort, Dear Deadman (released this past March), the band tore through an awesome 50 minute performance of punk, emo, and inde rock. Occasional electronic flourishes added even more diversity to the group's fantastic, upbeat songs. Their music was well received by the multi-coloured sea of bouncing raincoats who cheered and danced in the mud and puddles on the ground below.
Guitarist Atsushi Horie and bassist Hidekazu Hinata thrashed around on stage while drummer Shinpei Nakayama gleefully pounded away on his kit. Doing his best to get the crowd even more riled up, Nakayama hopped up onto his bass drum and beginning waving a towel above his head as his bandmates began playing the intro to one track. He then dropped quickly back down to his stool, picked up his sticks, and joined in with a wave of powerful drumming as the audience roared their approval.
Seasoned vets of the J-punk and rock scenes, Nakayama also performs in the act The Predators with members of The Pillows and Glay. Hinata used to be in Art-School and is also in Zazen Boys. Their talent and experience was evident as they turned in tight renditions of each song and expertly worked the crowd. Looking like they were having just as much fun as the audience (or perhaps even more as they were dry!) the guys seemed to be genuinely happy to be performing at the tenth anniversary of the Fuji Rock Festival.

I wasn't scheduled to report on Straightener's gig and knew absolutely nothing about the band before stumbling onto them at the White Stage. Two minutes into the concert I was counting my lucky stars that I stumbled upon them. Heavy yet melodic, their energetic performance is definitely one of my festival highlights so far and definitely straightened me out with a much needed pick-me-up. Thanks guys!

Shawn