Great moment of Story of the Year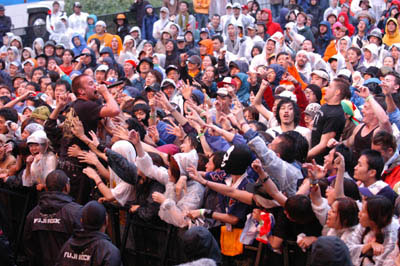 Punk/Rock band from St.-Louis is banging the White stage.
Formerly know as the Big Blue Monkey, the guys from Story of the Year had to change their name because a blues band had already taken the name Blue Monkey. I guest Blue Monkey are getting overly popular this days. This style of ska/punk/rock music always have a good audience in Japan and the band from St.-Louis provided an amazing doze of fat guitar drift, heavy drums and loads of testosterone to the Japanese fan.
Usually, the band is formed of 5 members Dan Marsala (vocal), Ryan Phillips (lead Guitar), Philip Sneed (rhythm & melody guitar), Josh Wills (drum) and Adam Russell (bass). However, the bassist couldn't make it for Fuji Rock for personal reason.
In the last 20 years or so, we have seen many group alike coming out from the United States, mainly from the skate/surf life-style culture of California. Well-established groups like the Offspring or Bad Religion are now seeing those new breeds of punk band like Story of the Year joining the scene with energy to shake-up everyone.
This performance delivered at the White Stage was entertaining and the guys really gave everything they had to excite the mass. Dan Marsala jumping off the stage after only two songs to join his fan while Ryan Phillips used his guitar as if it was his most precious organ. We even had the privilege to see some nice choreographic moves planed by the two guitarists that surprised everyone. It was just great rock with lots of punk attitude.