Fields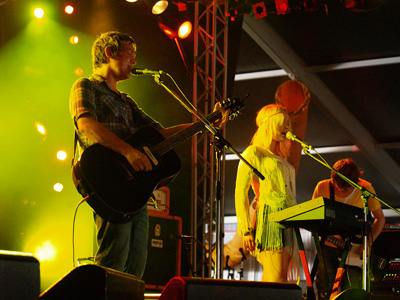 A breath of fresh air
Really, it's pretty easy to make a Japanese crowd love you as a foreign performer. All you need to do is use the tiniest little bit of Japanese, and you'll have them eating out of the palm of your hand. And Konichi wa was enough to do it for Fields in the Red Marquee on Saturday morning here at Fujirock, though they needn't have bothered. These newcomers that have piqued the interest of all who have heard them played short 30 minute set. I say this somewhat disappointedly because they really are a breath of fresh air, and I could have listened to them for another hour.
Looking straight out of the 60s, they even started with a track that sounded just like they looked, all Haight-Ashbury, especially Thorunn Antonia on vocals & keyboard. A nice acoustic start quickly morphed into some great psychedelic electronic sounds, and the flavour stayed that way for the rest of the show. They appear to be a completely unpretentious group of characters, at one stage Nick Peill on lead guitar (acoustic) said "This is a wicked festival." Simply a statement of his thoughts, not screamed at the crowd or appearing to be your standard way of revving them up (no "you guys are the bestest audience ever!!! YEAH!!!"). Drummer Henry Spencer stopped the show between songs at one stage, because he wanted to take a picture of the crowd "on my phone...".
Jamie Putnam switched from 6 string to 12 string electric guitars and back again throughout the set. Isabel was a nice fuzzy guitar ballad that had the crowd swaying back & forth. If You Fail (?) eschewed choruses for nice heavy short instrumental sections punctuating verses that tell the listener a story. After this, Peill announced to the crowd that he had to tune up again, before they launched into 'The Death' to finish off their set. The noise of this one drowned out the lyrics a little, but all told it was a great finish to one of the gems of this year's FujiRock. I was cursing my early start this morning after a 6am return to the hotel, but these guys made it all worthwhile!

Report by Dom