On the Ritz: UA Goes Over the Rainbow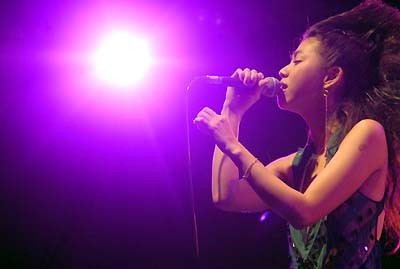 Japan's alternative music scene is full of shape-shifters, and few are as well appreciated as Kansai songstress, UA. I've seen her half a dozen times, and if it weren't for her signature siren vocals I'd have thought it was different bands. This year she has chosen the guise of a sultry chanteuse, slinking out on stage in a backless see-through dress lined with turquoise sequins, her hair a torrent of locks arching off the crown of her head. Is this the same woman my son watches on NHK's kid's programming weekday mornings? If so, then I need to tune in more often.

With a band led by saxophonist, Kikuchi Naruyoshi, UA started the show with the standard, "Somewhere Over the Rainbow." In contrast to the White and Green stages at the time, UA was in no hurry. She paused, sighed and cooed into the mike like a lover's ear, holding back from truly letting loose. Her restraint paid off. The smoky lounge effect she was going for would have been shattered had she displayed her lungs' full potential.
Instead, she let Naruyoshi take it a step further. The meter of his sax solos alternated between playful lilt and white-knuckle immediacy, all the while conducting the quintet with casual aplomb. Many know Naruyoshi as leader of the experimental jazz group, Date Course Pentagon Garden, but tonight was a more conventional affair, complete with black suits and a grand piano. There may have been mud around the stage, but for an hour or so, the Orange Court was the classiest gig in town.