The String Cheese Incident 2: The delicate sound of wonder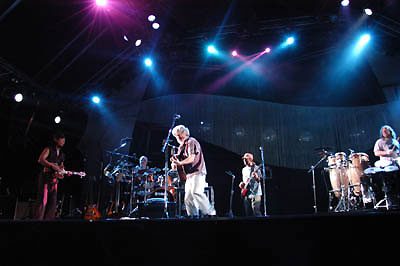 Blue lights shone from the stage, but the mood was anything but as Bill Nershi and friends did their Jerry best to raise soggy spirits at the Field of Heaven Saturday night.
The soft, spongy, sticky ground became that much softer as the crowd danced and swayed amid the atmospheric light installations, and the smell of incense and other "smoke". Anywhere you went in the area there was somebody dancing happily away--at the Tokyo Ale tent, near the merchandise stand, next to the candle garden, even by the toilets. Not to mention those near the stage.
Every solo by individual members of the sextet was greeted with raucous applause. Some of the best rounds of appreciative hoots and whistles were reserved for Michael Kang. His electric mandolin and violin (or is it a fiddle--I could get in trouble from purists on this one) solos are a signature part of the SCI sound, and certainly didn't disappoint.
All hands were ecstatically raised in the air as the band played their staple--"Mrs. Brown's Tea House". Everybody was jumping up and down in sweet Mother muck, singing out loud, in an extended-extended jam that seemed to last 30 minutes, though in reality was probably closer to 26.
Throughout the course of the show the clouds surrounded us, but never threatened; and the already mud-caked crowd, caught up in the rhapsody, really couldn't have cared less.
It's all about the music, man.
Jeff