Red with Envy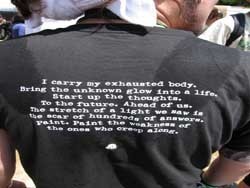 The sun finally came out on Sunday, rousting campers out of their tents early in the morning, and apparently sending all rockers to stages for early morning shows by Guitar Wolf (Red Stage) and Envy (White Stage). It was too hot to be carrying a backpack judging by these sweat stains, but it was all worth it for fan's of Japan's premier emo band. Keep reading for a longer review of the show.
Envy has been playing club gigs around Japan for the past 11 years, making a name for itself amongst an audience of faithful fans who adore the crooning, screaming vocals of Tetsu Fukagawa; and a tight cast of musicians including Nakagawa on bass, Tobich and Nobu on guitar.
Recently, they've even won over Mogwai, who is helping distribute their latest release. The music ranges from tuneful, melodic harmonies, to pure screaming rage. Towards the end of their hour-long set, a fan from the back of the White Stage was throwing tomahawk chops as he ran to the front of the stage, and when his friend followed, all hell broke lose. At the end of the set, one barechested foreigner said it was "cathartic", making him feel good, especially when one of his fellow mosher's gave him a hug.