Giant Canuck Party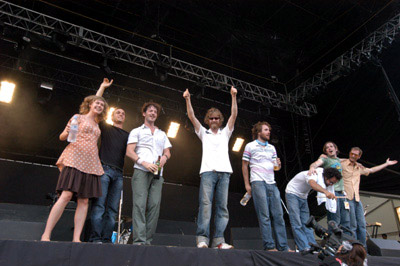 Paying homage to yesterday's rain, Broken Social Scene' Brendan Canning emerged for the Toronto act's set clad in a long green rain coat. He walked to the front of the stage and raised his hands as the large crowd assembled enthusiasticaly cheered him on. He removed the jacket as Charles Spearin and Andrew Whiteman met at centre stage and bowed to one another before the band kicked into their opening number.

Starting with a slim six members (the collective boasts close to 20 musicians), the line-up soon expanded to eight as the dramatic track progressed. The first of many beautiful, dense, pop songs, the audience swayed back and forth as lead singer Kevin Drew, Whiteman, and back-up vocalist Lisa Lobsinger sang togehter.
Guitarist John Crossingham got everyone to start clapping as "7/4 (Shoreline)" from last year's fantastic self-titled album began. From that point on, BSS's set became one giant party. Band members bounced around and a few tried their hand at different instruments. The crowd roared their appreciation at every possible opportunity and eagerly danced along to the band's brilliant indie rock.
With an extremely loose atmosphere on stage the band breezed through wonderful selections from their last two albums. "Fire Eye'd Boy," which Canning dedicated to all the trees and people, and "Cause=Time" both sounded fantastic. "Ibi Dreams of Pavement (A Better Day)" had everyone grooving and singing along. The vibe on the stage and in the audience was amazing. With both sides pushing each other to go even more all out, the amount of energy radiating from the area surrounding the White Stage could have powered most small cities for years to come!
BSS has always been about having fun, and that's exactly what the band had at FRF. Whiteman drank from a bottle of wine, snapped his fingers, and took pictures of the crowd and various camera operators when not playing. Crossingham tried to do a little of everything - banging away on a second set of drums, singing back-up, strumming on Drew's guitar while Drew was using it, and playing the role of cheerleader by trying to get all the clapping bodies even more fired up. Canning, who looks an awful lot like Canadian music icon Greg Keelor (Blue Rodeo) these days, swung his bass around and mugged for the crowd.
Completely enamoured with the act, the audience treated BSS like rock royalty. Ending with "KC Accidental" the crowd screamed and swayed back and forth as a wall of sound was built from the numerous cascading crescendos being turned out. The combination of the wonderful sounds and the amazing reaction by everyone gave me chills. As the song faded out the band members ran forward to take pictures of the field of people before heading off stage.
However, the crowd wasn't ready for things to be finished just yet. Clapping in unison the audience refused to give up until the band re-emerged for an unpredecented encore. Things run on a pretty tight schedule at FRF and when your time is up you're done. If any band deserved for the rules to be broken though it was Broken Social Scene. A huge round of applause erupted as the band kicked into their final track and the audience kept calling for them to do one more after they were finished. Easily one of the best acts at FRF this weekend, these talented Canucks have probably earned themselves a free pass to come back to the fest whenever they please. Let's hope they use it many, many times.