Baxter Dury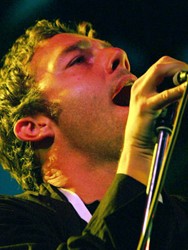 Baxter Dury has a lot to live up to. The son of Ian Dury of Ian Dury and the blockheads, he started his musical career even later than his father, who went on to gather a strong cult following. Baxter played the Red Marquee this evening at around 5pm, and had a small but appreciative crowd. I must admit myself to only being drawn in by the melodic tones that started emanating as I enjoyed a short break in the Oasis area. I had to go and see what was happening in there, as it seemed tailor made to my mood at the time.
Baxter started off with a series of slowly moving tracks that built steadily, reminding me somewhat of the Snow Patrol set I had witnessed earlier in the day at Green stage. His tracks built in musical intensity over the course of five or more minutes for the most part. While the track built, Dury's voice raised only slightly in volume, retaining the slow pace and never bursting into a scream as seems to be the norm for british performers of the moment. A rise in urgency only, the steady rhythm remained constant from start to finish, usually with a cacophony of sound by the end.
Dury has quite the stage presence. Dressed in all black with a long overcoat sporting two dragons on the rear, he struts slowly across the stage, sometimes in a thoughtful walk, others in a forced kind of jog. During guitar solos he was oft seen to be engaged in some kind of deep thought, until taking a long swig for a can on beer. Sometimes the contemplation was related to the track he was performing, such as with the ode to violence "Cocaine man" a track that is for the most part spoken word in the first person, with a crushing chorus condemning the actions. "Fungus Hedge" preceded this, a similarly heavy track telling a story to the listener.
He became a little more upbeat in the latter half of his set, led by the lively Francesca's Party. He showed here that it isn't all too much for him to believe. The sat remained this way until the end, with the knowing audience having seen one great performance