Support your local Fuji Riders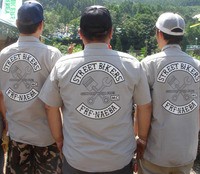 I think he was a little worried. I had spent a good fifteen minutes casing the bikes parked near the entrance gates. When I saw him he had a large clipboard that he was handing to riders, and a small digital camera. Each rider took the board and wrote a message on it--their name and a greeting—then held it up as they sat atop their bike and had their picture taken. The young man would check their name off a list, and head back to the one of the tents set up near the bikes. I thought he was going to come back out with a crowbar. He didn't. This isn't the Hell's Angels at Altamont. He just politely asked what I was looking at.
Meet Yuki Shirai: steel horse wrangler.

Set up across from the Palace of Wonder, near the entrance gates, is the Streer Bikers' Support Booth. Street Bikers is a magazine published in Tokyo for motorcycle nuts. They sponsor the booth that's staffed by a group of volunteers who love two things—bikes and music. As a junior part of the crew (like a 'prospect', he seemed to do all the regular joe jobs), Yuki-san was genuinely happy to be watching over all of the bikes stationed there and see that all the riders headed off safely. He was also more than happy to talk bikes.
They get about 500-plus riders here each year. They come in all shapes and sizes: Harley Davidson Soft Tails and Sportsters, cowled Ducati Monsters, vintage Triumphs, retro Yamahas, naked Hondas, and zippy Kawasakis. There are large and small scooters, side cars, and trailers. They ride solo, two-up, in groups, or individually.
People start to roll in Thursday evening, and the Street Bikers are ready for them. They will be stationed there until Monday night, after the last rider rolls out.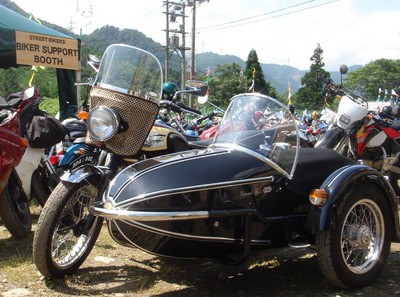 If you feel the lure of the open road, and love Fuji Rock Fest, you need to meet these guys. The Fuji Rock Street Bikers don't just cordon off an area specifically for bikes and watch over them. They also set up a "Bikers Only" Lounge tent complete with comfy couches to rest your weary back after the ride. You can also doff your leathers, buy some available refreshments, then mingle and swap stories and information with other riders. To top it off, they also have a tent that functions as a small garage with a licensed mechanic on duty (that would be Yuki's boss). Chain need tightening? Got a block in the fuel line? Need a new oil filter? Rest assured, help is at hand.
The cost for all this-- the parking, the lounge, the minders? Nothing. Nada. Zip. Zilch.
If that's not reason enough to hit the road, the twisties on the way up to Naeba ought to be. It's a gorgeous ride. Out on the open road a la Easy Rider (umm...'cept without that ending...), engine purring underneath you, heading to the greatest music festival in the world. It's what dreams are made of.
As I say thank you to Yuki for putting up with me, I inquire about which bike is his
.
"Oh me? I have a Yamaha SR 400," he says, still clutching the big clipboard in his right hand.
"Can I get a picture of you with it?"
"Well..it's not here..."
It's then that he shows me what his clipboard has been hiding: an arm wrapped in plaster from the elbow down, the tip of a long, flat metal support rod sticking out at his palm. He's been working all weekend with a busted forearm he got in a crash a few weeks ago. He came up on the back of his boss's 400cc scooter.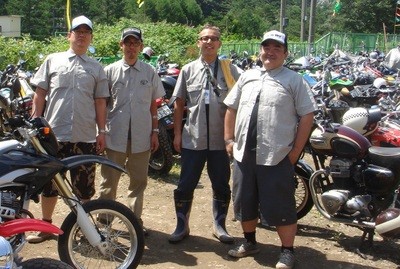 Yuki (second from left, hiding his arm): this blog's for you. See you next year.
Jeff