Best Party Place at FRF ...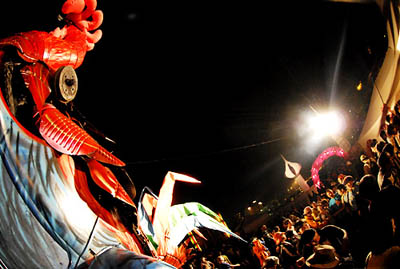 How could you possibly walk by something so cool and not even be tempted to stop in?
Watching hordes of people leave each night from the fest it pained me to see a lot of them pass right by the Palace Of Wonder without batting an eye, let alone strolling in. Decorated with elaborate sculptures, the awesome Crystal Palace tent, and entrance gates that spit out fire, this obviously isn't an easy thing to do. All I can say is that all those people missed one hell of a party each night.
With a continuous flow of young, exciting bands striving to be the "next big thing" on the Rookie-a-Go-Go stage, a wealth of insanely hip DJs and more experienced acts in the Crystal Palace tent, and a whole lot of flames erupting from the fire-based performances in the Arena area there was no shortage of things to see. Add in all the interesting people floating around (including performers such as Madness, String Cheese Incident, Super Furry Animals, and many others), a casino, a darts room, and plenty of spaces to drink and dance and you've got a party-loving individual's version of Disney Land just waiting to be explored and enjoyed.
My favourite night at the Palace was easily on Sunday night. With FRF '06 winding down everyone was a little tired, but still doing their best to have a good time. The conversations were lively, the drinks cold and delicious, and the music excellent. The Grand Fire Finale at 2:30 am helped get all the exhausted souls "fired" up again so that they could finish the night strong. Eddie Egals opened up his Fire Shower just after 4 am for everyone to try. A lot of the performers from the Palace Arena stripped down and gave it a go and a few brave Japanese spectators mustered the courage to join them as well.
As the sun rose above the mountains and the music quietly faded out the small crowd of remaining Fuji Rock fans huddled in the middle of the Arena area enjoying some free beverages that one of the bars had graciously offered. All were quietly counting down the days till they could visit this Palace that truly is filled with Wonder again.