FRF 2008 Do's and Don'ts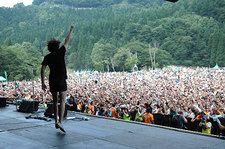 As the festival approaches, the Fujirockers team tries our best to advise festivalgoers as best we can (see the BBS if you have any specific questions). So I thought I'd start a little DO and Don't list…
DO
---Prepare for ALL types of weather:
Rainjackets and a spare (dry) pair of shoes are a must, but then a long-sleeve shirt for the wee hours is always in my bag. Real mountain-man gear isn't required. Hell, even dollar-store items may suffice.
---Take the Dragondola to the mountaintop:
The view is quite nice, and it's nice to see the throngs of people from above and listen as the music fades, giving way to birds and a babbling brook.
---Dip your feet in the river between White and Green stages:
Matter of fact, spend a little time here if you can. Some of the best mixed drinks are served at the bars here, and after dark the visuals projected on the cliff face offer an ideal place to chill for a bit.
---Finish off at least one night at Palace of Wonder
The POW is consistently my favorite area of the fest, but it doesn't open until around 10 and goes until long past dawn. Crazy circus-type acts, giant sculptures, poker and some killer old-skool DJs (Ska, Blues, R&B) makes this place a must.
---Dress funky
Where else in your life can you wear a blue afro wig and a silver sequined sport jacket and everyone wants to give you a high-five?

DON'T
---Don't stay at one stage all day, every day:
Fujirock is HUGE. Make time to walk the entire grounds. You might be surprised at what you bump into...
---Don't be a prick to the artists:
The main reason many bands ask to come back to FRF is that they can walk around without being hassled by haters and hangers on. You want a picture with them? Sure, but ask nicely, and accept "No" if that's the answer. Wanna chat? Maybe. Many artists get caught up in the good vibes, but remember that they may be jetlagged, with their crew or just not in a mood to hang with strangers. IUse common sense, and they'll keep coming back.
---Don't chuck your trash just anywhere:
The Smash staff makes it SO easy to be clean up there. There is usually a trash station within eyesight of just about anywhere in the festival grounds, and most of them are manned with staff to separate your garbage (paper, plastic, food waste, etc) for you.
---Don't follow a tight schedule:
Go with the flow. Stop to watch bands you don't know if you like the sound of it. Some of my favorite performances are always ones I wasn't expecting.
---Don't hold back:
This is a music festival, with heavy emphasis on FEST, as in festive, so leave your jaded indie-hipster world-weariness at home. This place ain't for sourpusses, either. Have fun. LOOK LIKE you're having fun. If there is any place where you should raise your hands in the air like you just don't care, this is it.

JINKI