Seasick Steve & The Low Down Hobo Blues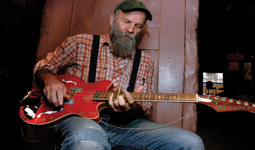 There are many indie, esoteric, blog darling bands coming to Fuji Rock festival this year, of course, and this is always a good thing. Remember Broken Social Scene's first appearance? Or the reverence the revellers had for Big Willie's Burlesque (they're back this year, by the way...). Or Clap Your Hands Say Yeah. The list could go on. And we know that the English writing team is going to have to draw straws for who gets to cover Gogol Bordello.
But if you want to see something "out there" and wild this year, then I suggest you get on over and catch Seasick Steve on Sunday July 27.
Hailing from Mississippi, Seasick Steve is one kick-ass, low-down, honky-tonk, freight jumping, moon howling, trainhopping, jailbirding, cowboying, carnival working, migrant farm picking, occasional tramping, near fatal heart attack surviving old mo-fo.
He may not have a cobra snake for a neck tie, but his band consists only of his "Mississippi drum machine" (a hob-nail boots stomping a small crate) and a guitar with only three strings he calls the "3-string transwonder". And when gets a-going, look out!
He wowed them live on Jools Holland last year, and his music lies somewhere between R.L. Burnside and the White Stripes loaded up on Spam.
Jeff