Five Years Ago...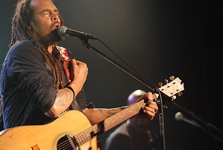 Michael Franti was the Man at Fuji Rock 2003, the one artist who embodied the spirit of the festival better than anyone else--maybe better than anyone else either before or since. As tall as a basketball player and sporting wild dreads that reached the middle of his back, he was seen everywhere--dancing with the crowd at the Talib Kweli show, hanging out backstage at the Red Marquee during The Music's set, checking out the food selection at the World Food Court, doing some disco karaoke at the Net Cafe--all in his famously bare feet, which must have walked through a lot of mud that weekend.
Franti started out in the San Francisco Bay Area hip-hop collective the Beatnigs, which eventually morphed into the Disposable Heroes of Hiphoprisy. He has often been marginalized by "real" hip-hop aficionados, first because of the grimness of his politics and later, with his funk group Spearhead, for straying too far from the shore. What Franti did, however, was marry his serious political concerns to a much sunnier musical style without compromising either.

Philosophically and stylistically, Franti and Spearhead fit the festival vibe perfectly, and his ubiquitousness actually gave context to the weekend, especially considering the state of world events at the time--America had invaded Iraq four months earlier. He talked to everyone he met, and was clearly at home in the festival atmosphere. Though he could hardly blend in, he identified with the crowd more than with the other artists, most of whom stayed only long enough to play.

And he gave it all back in the early morning hours as the festifal closed, with arguably the best performance of the weekendl, a glorious, funkified rock'n rap show that had the Red Marquee pulsing and jumping as he vented his bile at militarism and intolerance. "You don't know how good it feels to get out of the U.S. for a little while," he said, indirectly indicating that the folks he railed against would likely find the Fuji Rock Festival amusing and repugnant. "All the freaky people make the beauty of the world," was his mantra. For three full days freaky people were the world, and he was King Freak.
Franti will be back with Spearhead for the first time since then, and if his new album, All Rebel Rockers, is any indication, he'll be doing a lot more reggae than he usually does; which probably means he'll be over at the Field of Heaven or the Orange Court. But in actuality, he'll probably be everywhere.
Phil
Photo by Hanasan, courtesy Smashing Mag