The Fumes!!!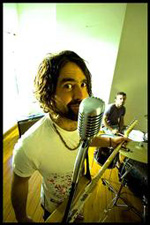 The Fumes
I love it when a band gets so excited about Fuji Rock that the first thing you see when you go to their myspace page is "Fuji Rock Japan, 2008!!!"

My love from them grew even more when the music on this site started to kick in and I learned they are blues busting, mind blowing, guitar and drum duo.
Rock combos make so much sense that I can't believe more bands aren't doing it. My favorite acts in the past 5 years have been dude-rock-combos like Death From Above and The Black Keys
Think about it, you and your best friend get to travel the world eating take out food and drinking as many beers as you want. No glum vocalists or other baggage to cart around, just you and your best mate!
It's even better when you can kick out the blues. And I am telling you man, I love this band so much I've already rocked out all their myspace tunes and am gonna look their album at the local record store.
//sean s.