Ozomatli: Rockin' it all the right ways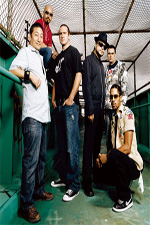 Ozomatli absolutely tore it up the first time I saw them 6 years ago. There weren't many around because it was 3AM on Sunday morning at the Red Marquee. I still remember it vividly: the band entered via a long congo line, and at the end of the night, they led the crowd outside into the Oasis Area where they climbed a tower and played as the hazy sun rose over the mountains on Monday morning.
From this first show, I was immediately hooked. I later learned that members of the band came together through their affiliation with the Peace and Justice Center of Los Angeles, and many of their first shows were benefits or charity concerts held at community centers in the LA area.
It was only a matter of time before the band blew-up, and their infectious Latin, hip hop, and samba sound would attract a larger audience. In fact, they made it on all the late-night shows like Conan O'Brien and recent appearance on Saturday Night Live
The band is also making another visit to Fuji Rock this year. And they probably won't be playing so late at night. What is awesome to know is throughout their career, they continue to be committed to social causes. Next week, play the opening gala of the Stand Up for Freedom, 2008 ACLU Membership Conference
It just shows the band can rock the body and move the mind!
//sean s.