Galactic, the Fuji house funk band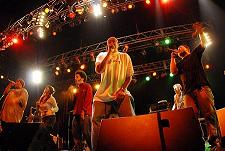 Somebody's has got to open for Bootsy, so who better than New Orleans' Galactic (and Boots without the Y). Since Theryl "Houseman" DeClouet has left the band, these serious admirers of The Meters have backed a number of vocalists, and are bringing Chali 2na of Jurassic 5 and Boots Riley of the early '90s political rap group The Coup. To get yourself ready, here's a gut punch of Galactic funk from Paris Library:
Paris DJs present Galactic New Orleans Funk Swamp
Be warned, it gets dirty. And, by the way, don't be surprised if Led Zepplin show up as well (Heya Jinki, how about Immigrant Song? Kashmir?).
-- Donald
* photos by photos by yusuke/Smashingmag.com