Off the wall & all over the map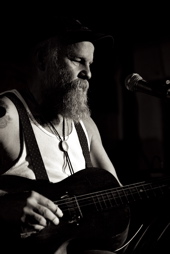 Portabiity has its rewards, and at Fuji one of them is the possibility of being invited to perform on multiple stages--not at the same time, mind you; though, considering the quirk factor of these two acts, I wouldn't be surprised if they hadn't tried to think of a way to make that happen.
The American troubador Seasick Steve is mainly notable for having garnered his cult after he turned 60, though, in fact, he's been in the music biz longer. Various bios have him playing with John Lee Hooker, appearing on BBC television, and recording an early version of Modest Mouse. Having left home at 14 and living as a hobo for the better part of his life in the U.S. and Europe, he now calls Norway his home (even if the band on his debut album was Swedish). Steve's country blues style is weird and arresting, built on shaggy dog stories taken from his colorful life and delivered in an off-the-cuff but entirely intense fashion. Steve and his custom-made, beat-up guitar will appear in the Crystal Palace Tent on Friday night at 11:45, in the Naeba Shokudo Saturday evening at 6:30, at the Field of Heaven Sunday afternoon at 2:00.
Janet Klein is unusual in a more calculated way. She plays pop and jazz numbers from the 1910s, 20s and 30s and dresses appropriately in flapper couture. More importantly, she accompanies herself on ukulele, and quite smartly, it should be pointed out. And while Klein's act could be considered sort of gimmicky, it is by no means museum-bound. For one thing, her voice, while perfectly suited to the old-time material, is not a caricature. Its fullness and presence is as contemporary-sounding as Erykah Badu's, it's just that she's using it to deliver "naughty" songs written fifty years before she was born. Over the years, she's accumulated a crack group of jazz musicians called The Parlor Boys that includes former members of R. Crumb's Cheap Suit Serenaders. We're not sure if she'll be hauling the Boys around to every stage she plays at Fuji--she entertains divinely with just that uke and her voice--but, like Steve, she's be all over the place so you have no excuse to not see her: Saturday, 6 p.m. at the Orange Court and 8:50 p.m. at the Naeba Shokudo; Sunday, 2:45 p.m. at Gypsy Avalon; and she'll also play Friday midnight at the Ganban tent.
Phil