"Jamie"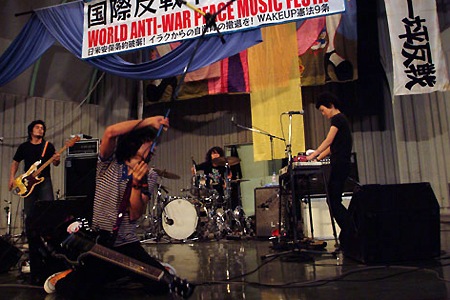 The posts on this blog are all made by the E-team of the Fuji Rock Express site. Last year's Express is here, this year's will launch the week of the fest and will be updating throughout the weekend with countless reports and photos.
Hailing from all corners of the globe, members of our talented team all have different music industry-related experience including (but not limited to) being bars/club DJs, campus radio DJs, radio program directors, freelance journalists, record label staff, party organizers/ promoters, and merch dudes. Despite all the musical endeavors we've had, only one of us has had a Japanese band pen a song for them.
The band who wrote the rockin' cut are the Zoobombs. The staff member is Jamie Tennant (JT). The song is "Jamie" (click on the track name to see a live performance of it) from Zoobombs most excellent 2006 disc, B*B*B.
Zoobombs are easily one of the best live acts in Japan. They were part of the debut Fuji Rock in '97, but sadly have not played the fest since. Not sure the reason behind this, but hope the band will grace one of Naeba's stages in the coming years as I know people would go completely gaga for 'em.
Interested to know the story behind "Jamie"? Check out this story from The Japan Times, or, better yet, read Jamie's account here.
Shawn
*Zoobombs photo by hanasan and used with permission from Smashing Mag