Give it up for the drummer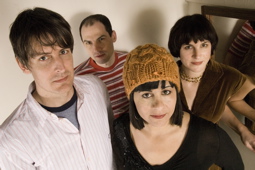 Our favorite timekeeper in the world is Janet Weiss, formerly of Sleater-Kinney and Quasi and currently manning the kit as a Jick for ex-Pavement honcho Stephen Malkmus, who'll be gracing the White Stage this year with his snarky post-irony classic rock. Drummers don't normally get a lot of media attention, but there's a wonderful interview with Weiss that just showed up on the Village Voice website.
In the interview, which you can read for yourself here, Weiss talks about drumming from a practical standpoint--not so much about technique and chops, but about being the band member who takes the longest to set up and break down, the person who's usually stuck at the back of the stage, and the meaning of being a woman drummer and how awesomeness just sort of attaches itself more tenaciously to females who beat tom toms. It's not a sexist thing at all; it's more a matter of cognitive dissonance. Most people still think of drums as a macho thing, but anyone who has every seen Weiss play will agree that the instrument can also be a thing of subtlety and range. It's difficult to think of any extant straightforward rock drummer, with the possible exception of Blondie's Clem Burke, who is more distinctive. We'll be staring past Stephen, you betcha.
-phil