Department of film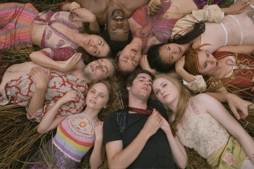 For those festivalgoers who are still awake at midnight but don't feel like partying any more, the festival will once again offer some movies along the river out near the White Stage. Beatles, lizards, funny Brits and...soul food in Shimane?
July 25...
Midnight: "Sguy and the Family Stone" Feature movie version of a late night TV anime series about a family in Shimane who run an African-American-style soul food restaurant. Gangsters, funk music, afros of all colors and shapes, and even the FBI!
1:30 a.m.: "Galapagos" BBC documentary about the island that Darwin made famous. Learn all about spiny lizards, big ol' ugly turtles, and more birds than you can shake a wire clothes hanger at. Reinforce your knowledge of evolution for that next run-in with the fundamentalist Christian down the hall. The music's supposed to be groovy, too.
July 26...
Midnight (parts 1 & 2) and 3:15 a.m. (parts 3 & 4): "Little Britain" The first four episodes of the hit BBC series lampooning all things British. See Elton John, George Michael and Kate Moss get made fun of--on purpose, with their permission!
1:00 a.m.: "Across the Universe" Director Julie Taymor's (The Lion King) hybrid of Hair and That 70's Show is about a Liverpool lad who comes to America in the late 60s to find the G.I. father who left his mother after World War II was over. He hooks up with a rich lily-white college girl whose boyfriend has just been killed in Vietnam. Hardly compelling stuff, but get this: it's all scored to Beatles songs, which the principals sing with passable skill. My only complaint is that they stick to the hits. I would have given my right nut to hear these kids take on "Me and My Monkey."