Day Dreaming & the Dragondola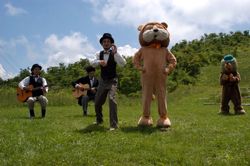 Cure that hangover with a trip out to Day Dreaming
This is that hidden secret of Fuji Rock. Many people take advantage, but so many more miss out. That's right, the Dragondola, a 20 minute ride out to the Day Dreaming stage. Check out the schedule on there, and you're bound to find something achill to satisfy your tastes. Better than lying in your tent or wasting away in a dark hotel room, don your sunnies and get on for the most picturesque view of the festival. Well, maybe the helicopter ride is more exciting, but this will give you a bird's eye view of the whole site at a fraction of the cost! Just ¥1,000 for a return ride, head up the walkway between the Red Marquee entrance and the international food area, and let the security guards guide you, and you're at the entrance. Once onboard you will wonder why it took you so long to do so.

Once up there, you can chill to the grooves of some of the most eclectic performers at Fuji Rock. Perfect for laying back and chilling your way through to those mid arvo bands you'd usually be getting up for. Start your weekend with Eccy then cruise through Stoned Green Apples, in my opinion well worth a look. Many more through to the 4pm finish. Neon start Sunday's festivities, seemingly no relation to Neon Neon who start the Sunday Session in the Red Marquee, but you never know, it may be just one of 'em! Both the Friday and Saturday are filled out mostly with short 30-40 minute performances, barring the finishers who get an hour or so each. The ever popular Dexpistols round out the Saturday Session.
Look out for four longer sets on the Sunday, starting with Richie Hawtin, who will be fresh (?) from his 5am Saturday night Red Marquee finisher. Ever a popular billing in Japan, he's the highest profile spinner out at Day Dreaming this year. Will be nice to see him perform out of the confines of a club (or tent as in the Red Marquee's case!). Move through the day with Daisuke Matsusaka, the interestingly named (and near impossible to find any info on) Yoda, and finish up with Seinoize. These three have played on bills together before, so it should be a tight afternoon up there at Day Dreaming!
Once it's all over, well, there's nothing else for it. Get back on that Dragondola and get groovin to a different beat!
Report by Dom.
Photo from FujiRock Express 07, by saya38