Salsa Nippon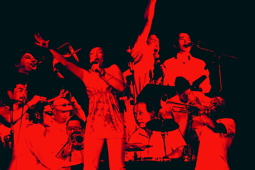 Back in the early 90s a Japanese TV travel show followed the Japanese band Orquesta de la Luz to New York, where they were participating in a salsa festival at Madison Square Garden. At first, it looked like another of those documentaries showing the indestructibility of the Japanese spirit in the face of a hopeless challenge, like those amateur baseball players who always go over to the US and try out for the Mets or the Cardinals, with video cameras recording all their humiliations. But it wasn't like that at all.
Orquesta de la Luz is a real salsa band. They, in fact, were one of the headliners--in New York, the salsa capital of the world! At one point in the program, an interviewer walked around an Hispanic neighborhood asking passers-by what they thought of the band. Everyone knew them and many thought they were the best salsa band around at the moment, but when asked if they knew where the band was from, most of the respondents said Panama or Venezuela. Very few actually knew that every single member was born and brought up in Japan, including lead singer Nora, who, at the time, still could not converse in Spanish. They toured South and Central America constantly.
Since "retiring" in 1997, the group has played sporadically here at home, but in the past six months their name has popped up at a lot of jazz clubs, which seems to mean they're on the comeback road. Fuji should be the perfect opportunity to turn a new generation of Japanese on to the hottest dance music on the planet.
-Phil