The Melvins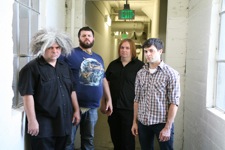 To celebrate their 25th anniversary this year, The Melvins are performing their 1993 seminal sludge metal album Houdini in its entirety at a few select gigs in the U.S. of A. We don't know if this will be the case for their appearance at this year's Fuji Rock Festival, but for those who like it on the dark and heavy side, Buzz Osborne and company's set should be a top priority.
The Melvins are considered by some to be, if not the godfathers of grunge, then at least the forefathers of it. The fact that a pre-Nirvana Kurt Cobain was a huge fan (and rejected as their bass player) adds to the mythology—though in truth the The Melvins were far more experimental and heavy than what what we think of now as "grunge" music.
Buzz Osborne (a.k.a. King Buzzo) called the slow sludgy sound of his band "a hideous cacophony of melody," and he pretty much nailed it. If the Melvins were a precursor of anything, it would be the drone metal sound of bands like Mastodon, Sun O))), and Boris (who took the name of their band from the first song off of 1991's Bullhead). While The Melvins' latest effort, last year's Nude With Boots, is perhaps a little more accessible than much of their unconventional and dense discography, King Buzzo still keeps things the way fans of the band like it: "Big. Loud. Heavy. And lots of drums."
The Melvins play on the Saturday night, and I'm gonna go ahead and guess the White Stage. It won't exactly be light or uplifting music—in fact it will probably be like having your chest crushed by a substantial weight—but you can bet nobody will fuck with you afterward when they see the stupefied look in your eyes and your ears bleeding.
"Boris" the song, a 1991 performance via YouTube.
Jeff