Animal Collective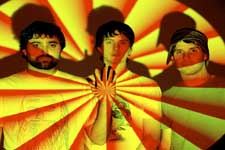 I knew Animal Collective was playing Fuji Rock about 2 months before the official announcement and had a pretty hard time holding my tongue and not blogging about this info. Tell you the truth, I couldn't be more excited cuz this band is tearing it up on their North American tour, and it is darn hard getting a ticket to their show. As an example, their LA gig at the Fonda Theater was sold out weeks in advance with tix on Craig's List going for US$150 apiece. Well, I considered paying the price, but unexpectedly ran into them somewhere else...
Instead of paying the scalpers and on line ticket brokers, I consoled myself with a Sunday afternoon all ages gig featuring a handful of hot local acts. This particular day was seemingly a Who's Who of LA's up and coming bands such as No Age, Wavves, and Miko Miko.
This all-ages show was sold out and I had to pull some strings to get myself in. The instructions given to me and my companion were to go around the club and wait in the back. Well, when we go there, we met a dude wearing a hoodie who told us his instructors were to go to the front of the club.
After getting our hands stamped, I learn I am standing next to Dave Portner aka Avey Tare of Animal Collective. He's real quite and polite, standing almost mid-distance from the stage and taking in all the bands. During breaks, he tells me the band is gonna play Fuji Rock and are pretty psyched. Anyways, at the end of the show, when the bands are packing up on the street, he's still there hanging around which shows he totally loves music.
//sean s.