Basement Jaxx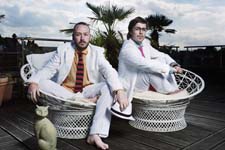 The last time Basement Jaxx played Fuji Rock (2004) I was lucky enough to interview them. I'd tell you what they said, but I forgot to press the Hold button on my IC recorder and managed to wipe the interview by the end of the festival. Not my greatest move ever. I'd already sold the interview to two publications, and neither of them were going to let me write a gonzo story about a writer's hazy recollections.

But I remember that the pair gave interviews separately, revealing quite a difference in their characters. Simon was first. He was charming, thoughtful and talked about the technical aspects of Jaxx and his taste for rock music. Then came Felix – jetlagged, perhaps hungover, but still functioning at about 5 times the speed of his partner, talking about parties and jazz. It's easy to imagine them in the studio with Ratcliffe at the mixing desk and Buxton bouncing around like a kid on tartrazine. It's also easy to see why the duo works so well together and how they've created such a recognizable sound. They told me about the music they listened to (can't remember any examples, but they had opposite tastes), and they told me about their idea of a perfect evening (can't remember what they said, but they had opposite ideas). Simon also told me that he doesn't enjoy being centre of attention on stage, but that Felix loves it. When they headlined the White Stage later that day they both seemed to be loving it, and they showed that even though it's a long way from those days in South London, they still know how to throw a party.
I recall that the PR people gave me a flyer about a Jaxx singles collection that was about to come out, but neither artist had even heard of it. They both told me that their record company did what it did and they do what they do, and though they thought it was weird to release a Greatest Hits so early, neither seemed interested. According to their myspace page, Fuji Rock isn't on their schedule, so maybe their management operates in a similar way.
I wonder if they know they have a new album coming out in a couple of months, called 'Scars' and featuring Yoko Ono and Lightspeed Champion as guest vocalists. Here's Raindrops from that album - a track that's causing a bit of a rumpus among some fans for not being nearly bouncy enough.
--
coglione