All Night Fuji Part 1: Ken Ishii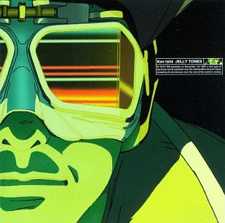 It's sometimes difficult to strike exactly the right balance at Fuji Rock overnight. It's a constant trek back and forth between the Red Marquee and the Palace of Wonder to balance the musical side of big name acts at the RM with the social side at PoW. It's always a compromise, as some of the quirkier musical acts perform by special invitation at the Palace, alongside their rookie stage predicting who's going to be Japan's next big thing. On friday night, the choice gets even harder, with All Night Fuji down at Orange Court, way over the other side of the grounds.
Or does it? I for one usually end up making that 30 minute trek to the dark side, home to the truest of the dance parties at FRF. Sure, there are other dance and techno acts over the weekend, but All Night Fuji is the only dedicated stint of non stop raving. Whereas acts in the Red Marquee can make way for quite differing styles resulting in a somewhat disjointed feel to the night, All Night Fuji is where you can enjoy that uninterrupted flow. The biggest name announced so far is Ken Ishii. And that's no small order.
I remember my first ever Ken Ishii gig. I was about to move to Japan, and a good mate decided that I needed one last bender; one involving a dj that would help soften the blow of my move to Japan, a cultural buffer if you will. I readily accepted the invitation, back then a night out was a night out, and my tastes in music were not as defined as they are now. Ishii provided a much harder edge to the trance I was used to. Ishii's minimal style set in motion a whole new level of appreciation for techno that I have pursued and come to love since I arrived here.
Breaking into the international circuit is an achievement relatively few Japanese DJs and/or producers have managed. Drawing big crowds on his home shores, Ken Ishii first came to international recognition more than 15 years ago. Since then he has reached a level that takes him all around the world on a regular basis, but he still manages to find plenty of time for his home country. No stranger to Fuji Rock, he will no doubt cut a swathe through the night with the sound that is as recognizable to video gamers as it is clubbers, with his productions having been picked up for everything from video game soundracks to the official theme for the Nagano Winter Olympics.
For me, the choice is an easy one. With two further nights of RM and PoW debauchery, you'll spot me in the (hopefully!) stylish Smash staff T shirt on the Orange Court floor, 11pm to 6am Saturday!
Catch Ken Ishii in the lead up to Fuji Rock on the Womb Cruise on May 31st, and at Unit on June 12th.

Official site
MySpace
Facebook
Dom.