Gang Gang Dance: Hip enough for NYC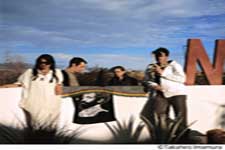 I've already said this before, but I will mention it again… I am psyched to see artists at Fuji Rock because back home in the US their shows are sold out! The latest commodity coming across the pond is Gang Gang Dance. My last try going to see this band was the opening party for the Nada Art Fair ( a young cousin of the bigger Art Basel Miami Beach event). I, along with 20 well dressed, pin stripe suited, big shots of the art world found ourselves locked out of this party. Nobody was getting in or out, and i had little choice but to console myselve with the indignity of sitting at a bar next door coiffing US$25 whisky drinks.

That was 2007, and since then, this band of "feral art rockers" have played every major happening, art show, biennial or any other cultural event of any importance. For instance, they conducted the 88 Boadrum happening in Williamsburg last year, an 88 minute performance with 88 drummers selected by the Boredomes and Hisham Bharoocha. The event wasn't totally new, nor mind blowing, as it was a continuation of the 2007 77 Boadrum event, only this time sponsored by Nike with events in both LA and NYC.
Gang Gang Dance have powerful friends in the art and music industry. Hot Chip's Alexis Taylor told NME they are his favorite band, saying their live shows are inventive and cool. If you've ever checked out their youtube clips, you will see the band loosely jamming around with electronic equipment and two drum kits. Shows can veer between a lot of standing around with bouts of head swinging and full out breakin'.
The best way I can describe it is looking at the bigger US music scene and figuring out how the hippy, psychedelic movement migrated to the east coast in bands like Gang Gang Dance while the west coast was overtaken by hardcore muthafuckas like Rage Against the Machine and other brutal punk acts.
Its weird how things can change, and how flipping coasts can make things cool again. That's how I explain Gang Gang Dance, and if I'm wrong, just let me know.
//sean s.