Ready and Wilko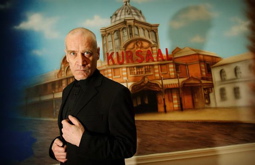 Brinsley Schwarz was probably the genre's most inventive band and Ducks Deluxe its most technically proficient, but pub rock's most exciting ensemble was definitely Dr. Feelgood. Greasy, bluesy, alcoholic and totally insane, the group played rock'n roll without any of the pretentious filtering that was de rigeuer on the English pop scene of the early 1970s, and the focal point of the band's intensity was the "machine gun guitar" of Wilko Johnson.
Johnson was the meanest mofo in British rock, a scruffy and menacing stage presence whose command of the stinging timely riff was legendary. When he left the band in 1977 he decided to make some money and became part of the new wave faves the Blockheads, a gig that brought out his naturally funky side to great effect but automatically checked his more sinister presence since he was basically playing behind vocalist Ian Dury, whose outsized personality left no room for anyone else on stage.
But since the early 80s he's been pretty much on his own and one of the prime fixtures on the British and European old style R&B circuit. He also used to be an annual visitor to Japan, but for some reason he hasn't been to these parts in a while, so it will be nice to have him prowling Fuji, staring down the faint-of-heart and rumbling across whatever stage he struts at full volume. Save your beer money for this one.
-Phil