Smashing Magazine: The Smashingest

Fuji Rock Festival is about more than just the headliners. Sure, the big name acts on the Green and White stages probably don't need much in the way of introductions, but with over 200 artists performing over the course of the weekend there are bound to be a few you've never seen or heard. And of course, many of these acts are Japanese and relatively unknown outside of here.
So let me introduce you to one of the biggest and best online resources about popular music in Japan: Smashing Magazine.
If you are wondering about any of the bands on the Fuji Rock bill - maybe you've never heard of them before, maybe they're Japanese; if they have come out of--or come through--Japan, chances are they've been written about on the Smashing site.
At present, there at least 2,000 artist entries (you can find an index here) on the site dating back to 1998. It consists of tour reports, gig reviews, disc reviews, interviews, photo reports and miscellaneous features on music in (and sometimes out of) Japan. The photo reports contain an astounding collection of galleries by some of the best rock photographers in Japan. These are incredibly dedicated and passionate music lovers, and are the same people who shoot FRF in all its glory, 24/7, while the festival is happening. And the writers? Well...ahem...let's just say: simply genius!
As a database of rock music (and much more) in Japan, the Smashing Mag site pretty much has no equal. Each entry contains links to official artist home pages and myspace pages where you can check them out further, as well as direct links to iTunes and Amazon Japan (here, you can click the "English" tab in the top right to change the language) where you can purchase that limited edition, six-song vinyl E.P. with the Japanese cover art and bonus track that you would otherwise have to trek to Tokyo's maze of back street record shops to hunt down. Easy peasy Japanesey.
The site is divided in half: Smashing Mag Japanese and Smashing Mag English. Toggle from one to the other by clicking the logo in the top left (yeah, that logo, the one that sits atop the 5,253,281 page loads number). There are even some reports in French. For you English speakers--don't be afraid to poke around the Japanese parts of the site. Photos and links to streaming media don't require you to have kanji knowledge or pass a language proficiency test. Explore it. You won't break it. And you'll probably learn something.
We'll try to provide specific links to previous Smashing Mag articles on artists we report on here, but we may miss a few, so do yourself a favour and check it out. Whether you're curious about a favourite band's past forays to Japan, or have no idea who some Japanese or other foreign artist is in 2009 Fuji Rock Festival lineup, Smashing Mag should be your first stop. Well, there and Google.
And one more thing: the man behind it all is Koichi Hanafusa ("Hanasan"). He's also the man behind the Fuji Rock Express live-as-it-happens website that chronicles the festival every year, and this here lead-up blog.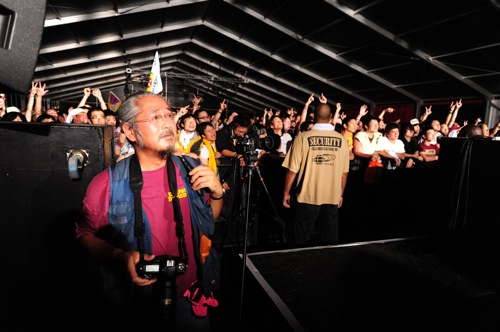 Check out his humble beginnings here. Thanks Koichi!
(Picture © 2008 Jason Jenkins, used with permission)
Jeff