Räfven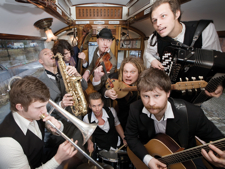 There's always a gypsy band or two at Fuji Rock. This year, it's Räfven's turn.
Bands like Räfven are all about the live performance. The music translates so well into party mode, all about swinging your mates around, arms linked in a crowded dance floor. Anyone who remembers Gogol Bordello's scorching set in the Palace of Wonder last year will know what I'm talking about. This is music to embrace in person.
I've been listening to three of Räfven's recordings all afternoon, and the live CD really stands out. Working their way into the festival circuit by simply showing up and playing, these guys are well know for performing across Europe wherever more than three people have congregated.
This 8 piece from Sweden have endeared themselves to crowds all over the place. And good reason too. Festivals are about variety, and that's why I'll be front and centre when Räfven pick up their instruments. Wouldn't it be boring if all we got was (insert any musical genre of your choice) for three days? These guys are my pick for the most number of performances over the festival in 2009.
I might just have to book this band for my wedding. But then again, knowing their form they might just show up and play anyway!
Dom.