Rowland S. Howard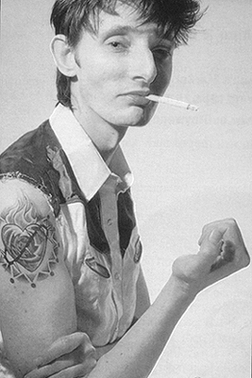 There aren't many Australian acts at Fuji Rock this year. The inclusion of a Melbourne music stalwart makes up for all that. You may not know his name, as he has always stayed somewhat in the shadows, much like his music.
Rowland S. Howard got started in the Melbourne music scene when he formed the Young Charlatans. Penning the iconic "Shivers" at the age of 16 for this band, Howard left the group soon after for Boys Next Door. Budding vocalist Nick Cave's vocals then made "Shivers" one of the standout ballads of the genre when he performed it for them. Boys Next Door quickly evolved into post punk legends The Birthday Party, going on to massive critical, if not commercial, acclaim. Moving on from the Birthday Party, Howard formed a longstanding collaboration with Lydia Lunch and has worked with a veritable smorgasbord of names in the music industry world wide. In addition, there's barely a name in Melbourne that he hasn't had something to do with, working with Kim Salmon, Dave Graney, The Dirty Three, Magic Dirt, Ed Keupper, local legends Shower Scene From Psycho, and of course The Beasts of Bourbon, not to mention many, many more. He still maintains a working relationship with Nick Cave and the Bad Seeds, occasionally doing backing vocals and more on their albums. These Immortal Souls has served as an outlet for his music over recent years.
Get down to whatever stage Roland S. Howard finds himself on on Sunday. I'm putting a bit of cash down on the Red Marquee mid to late afternoon, but let's wait and see. Don't take my word for it, check this enduring cult songster out for yourself!
Dom.