A Whole Lot of Soul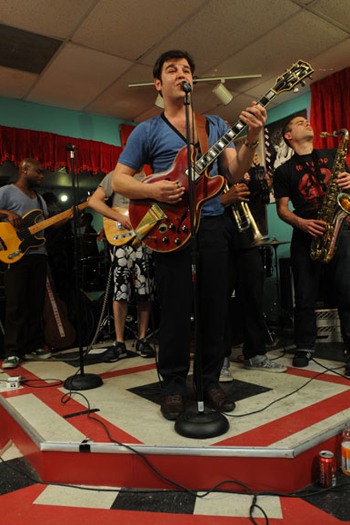 We previously told how our brothers and sisters in rock at Smashing Mag traveled to Austin, Texas earlier this year for SXSW. One of the acts the site's editor, Koichi Hanafusa, was most excited to see was Eli "Paperboy" Reed & The True Loves.
In late February, Koichi spent a few days at my place. He had to write a review of "Roll With You" by Eli "Paperboy" Reed & The True Loves and played the album start-to-finish several times (his write up is here if you can read Japanese). It's a damn fine disc of old school-inspired soul and R&B. Only in his-mid 20s, the American-born Reed has an absolutely fantastic voice that brings to mind greats such as Sam Cooke and Otis Redding. Koichi said he thought there was a real good chance Reed may be at Fuji Rock this year. I'm thrilled that he was correct!
Reed's got a short bio on his MySpace page along with loads of completely justified praise for "Roll With You." The site also lists him as performing at Fuji Rock on Friday and Saturday. Fuji's schedule only has him down on Saturday, but hopefully it's wrong and fest-goers will be treated to two days of Reed and his six-piece backing band, The True Loves. If Reed is indeed playing on multiple days, I'm praying that one of the gigs goes down in the Crystal Palace Tent. A late-night intimate showcase by Reed and company would definitely be one of my must-see shows at this year's proceedings.
MySpace page for Eli "Paperboy" Reed & The True Loves is here.
Smashing Mag's photo report of Eli "Paperboy" Reed & The True Loves is here.
Video interview with Reed from last year is here.
Live performance on Jools Holland is here.
Shawn
* Photo by Koichi "hanasan" Hanafusa and used with permission from Smashing Mag