Flying the flannel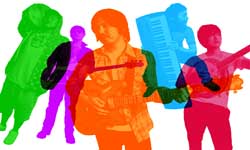 Sounding a lot like my favorite Minneapolis bands, Soul Asylum and The Replacements, Japan's Comeback My Daughters are well worth checking out. Another laurel in their cap is their much loved record label, Pizza of Death.
Formed in 1997, the band is led by vocalist/guitarist Kazuhide Takamoto whose rough hewn, nicotine sotted voice croons heartbreaking tunes. He gives the band emotional pitch and focus, just enough weight for their dueling guitars.
Like their Minnesotan counterparts, they also have a reckless abandon when it comes to fashion, most of the time performing in baggy white V-neck t-shirts and worn-out flannels. The music is tuneful, touching, and sometimes just pure rawking fun. It would also make a Midwestern slacker proud with song titles like "Bored Rigid," and "Bite Me."
Just press play on this video below, believe me, it's worth it.

Myspace
Band Website
Their totally cool label
//sean s.