Cage The Elephant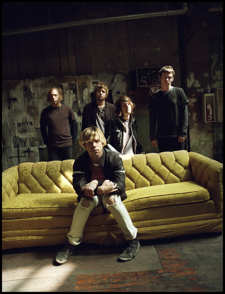 A couple of small town brothers from the American south get rebellious, form a rock band, escape their Pentecostal upbringing, go to England, booze and carouse, go to model swapping parties, and screw and snort their way around the London music scene–-and no, it's not Kings Of Leon. Plus I made that last bit up (about the models and the screwing and the snorting) but the first part is true.
Cage The Elephant is a five piece rock band from Bowling Green, Kentucky, home of a GM assembly plant, the Corvette Museum, Fruit Of The Loom, and not much else. They scored a Billboard single last year with the slide-blues-rock styled "Ain't No Rest For The Wicked." Think Loser-era Beck wanting to be a rock n' roll star with G-Love and Special Sauce. For a whole album.
The brothers Shultz–-Matt on vocals and Brad on guitar–-formed the group out of high school in 2005. They were raised in a small apartment by their hippie-stylin', Jesus-lovin', livin-off-the-land parents on a secret, stolen diet of Hendrix and Dylan. I don't know where all the "funk" descriptions come from in all the reviews I read, but guaranteed Coglione will have a fit when he reads that stuff. I mean bouncy–yes, infectious–yes, groovy–yes, but this ain't no George Clinton and/or Bootsy. I think Cage The Elephant is gonna be one of those love 'em or hate 'em bands, but I already know I'm going to try and check them out so I can make up my own mind. Just like Kings Of Leon.
Their official web site is here, but if you have a slow internet connection, don't bother. It's heavy on the see-and-do fingerpainting so it takes ages to load. For more instant gratification, check their Myspace site here.
If you listen to their self-titled album and you like it so much you gotta buy it, well then click on the pretty picture.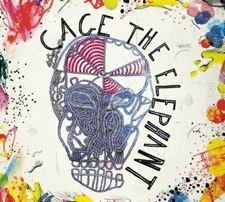 Jeff