Obscure Japanese artistes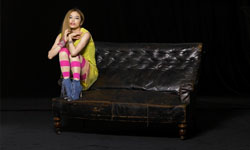 Let's face it, if you read this blog. There is good chance you are a gaijin how doesn't have a clue about half of the local artists performer on the lineup. However, Japan have some very cool artists that are well worth discovering and Fuji Rock provide you a great opportunity to do so… I personally believe that THE Japanese band not to miss this year is Polysics. I've seen them live before and they are sick and cool. However I already wrote an article about it so I'm not going to get back on the orange suit kids.
Here are some of other artists I will look forward to see and the reasons you too should come along…
Chara at White Stage on Monday
Well let's be honest here. Even tough Chara is already past the 40s she's still a very attractive lady with one of the sweetest voice of the hi-pitched/whispering child niche of J-Pop music (maybe only challenged by Yuki in this very popular local market). She's also an accomplished artist being singer, songwriter, musician and actress. Her music style often borrows from other genre incorporating exotic sounds such as African-American funk or Trip-Hop electronic beats. But the main reason why you guys don't want to miss her is because she benefit from a genuine cult of followers, mostly composed of cute and eccentric girls that recognize themselves in her creativity. No doubt, when she hit the White Stage it will be a nice place to make friends.

De De Mouse at White Stage On Sunday
The Tokyo based electronic musician is not so well known yet having debuted his career a mere 4 years ago and released his first album in 2007. His sound his very close to 8bits soundtrack of video games or the kind of music you had expect into the generic of Japanese anime. But he don't keep himself in the over simplified cliché of retro NES rhythms but embrace also much more complex melodies. He recently had some songs remixed by the respected local house DJ Shinichi Osawa know for his participation to Mondo Grosso or remixes of celebrities such as Felix da Housecat and Digitalism. I also had the chance to see De De Mouse perform live at Shibuya Womb last winter and the show was a pure moment of joy.
Sebastien