Clap your hands for an encore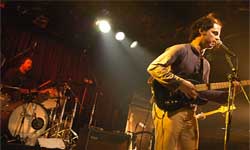 Who's touring this summer is a straightforward formula according to the UK's Guardian who describes it as: Proximity of latest album release + ( Current Popularity x Number of Hits) + Band Willingness. Fuji performers amongst the Guardian's top 10 list of busy bands this summer include: Franz Ferdinand and Lily Allen (both with 21 gigs), Kaiser Chiefs (18), and the Killers (17).
With this in mind, it comes as a complete shock that Clap Your Hands Say Yeah were added to the Fuji Rock line-up. Not only do they not have a new record in the pipeline, they even went so far as to cancel a much publicized recording session back in January of this year.

Being quirky is nothing new for this band, after all, they have been billed as one of the first indie bands to gain popularity through the internet. This is sort of true, or at least half-true, and though their 2 previous albums have been self-released, their website still sorta sucks, just a simple blog-like thing with updates about the band, and numerous side-projects involving band members.
But what could one expect from a band formed by a group of friends from Connecticut College. The band's fame did not come from hype machines driven by major labels, but by bloggers who posted their MP3s and the strength of their eponymous debut.
That said, the reason they are coming back is probably because they rocked the Red Marquee in 2007. While lacking some of the buzz surrounding many of the Brit-Pop acts at the festival, they still managed to pack the joint and knock out some bangers such as a Neil Young cover of "Helpless" that drew out a few cell phones and DV cams. I was there and it rocked, and I swear, it sounds a lot like this version on youtube.
Also, they have a new song out "Statues", which can be downloaded for free on their official website. But I warn you, it aint totally instant gratification cuz they send a link to your email account and then you can get it.
Clap Your Hands Say Yeah photographed at Shibuya Club Quattro (24th Jan '06) by Smashing Mag. Photos by keco
//sean s.