Sunny Day Service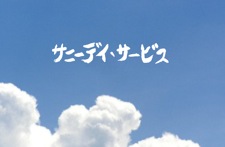 There should be lots of twenty and thirty something girls hanging around Field of Heaven on Sunday afternoon to see the reformed Sunny Day Service play it's trademark unpretentious, lost-in-the-70s guitar pop. It's funny: I have met so many Japanese girls who happen to be into bands like Mogwai and My Bloody Valentine and Sonic Youth that just can't get enough of Sunny Day Service. Maybe this is what you need to listen to after a few hours of being morose, like coming up music, instead of coming down.
When they first released material, Sunny Day Service were riding the coattails of bands from the Shibuy-kei camp. They played Tokyo pop a la Flipper's Guitar (of which, Keigo Oyamada would go on to become Cornelius) and Pizzicato Five, and originally were criticized for sounding too much like the latter and not nearly as inventive as the former. While the Shibuya-kei scene was hardly a bastion of originality itself--ripping off '60s hipster lounge beats, Serge Gainsbourg, and bossa nova tunes--it seems to have been just what the doctor ordered for a few years after the bubble burst in Japan: frivolous, innocuous and consumable. From '95 onwards, Sunny Day Service released a full length album every year.
The guys in Sunny Day Service (mainly singer, guitarist and songwriter Keiichi Sokabe) gradually stripped their sound down, and apart from some Hammond organ riffs, segued into a meat and potatoes folk rock band, this time taking their cue from bands like The Happy End.
And here is the erstwhile group slurping and promoting noodles, while all around them at the time, grunge was imploding:

In 1999 they toured with another band re-assembling at this year's festival, Trashcan Sinatras.
The group formally disbanded in 2000 on the last night of their Love Album tour at LiquidRoom Shinjuku. Main man Keiichi Sokabe has continued releasing solo material as the The Keiichi Sokabe Band.
If the weather is nice, being up at Field Of Heaven and sipping a few cold beers while Sunny Day Service takes us back to Shibuya circa 1996 could be a good way to nurse your Palace Of Wonder hangover.
Jeff