The Inspector Cluzo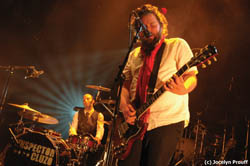 Aside from the band's name, which denotes a certain sense of ironic identification with a Hollywood portrayal of a bumbling Frenchman, the band being French and all, they sure sound a heck of a lot like the Red Hot Chili Peppers circa Blood Sugar Sex Magic. But the weird thing is, how do you do funk without a bass player?
The Inspector Cluzo is in fact a duo, Laurent Lacrouts (drums/vocal) and Mathieu Jourdain (drums). Instead of socks on their dicks, they dress perhaps more appropriately for a Pink Panther movie, or at least Jourdain does, wearing a dapper suit-vest and tie on the kit. Lacrouts is a big fella with a beard. I actually ran into them briefly in south Taiwan at the beginning of April, where they'd played at Spring Scream music festival. They were standing outside a hotel, looking unshaven and ragged in striped beach shorts, like members of the French Resistance on vacation. "So you are zee Inspector Cluzo?" I said. "Yes, we are zee band," one of them muttered back. It seemed they were touring the world, with pre-FRF summer gigs, they informed me, including opening slots for Fishbone and Suicidal Tendencies. At FRF09, they'll fit right in in the Orange Court, an act that is a little bit retro and a little bit rock 'n roll. How they'll do it without a bass player though, I still have no idea.
To see what I mean, check out their music video for "Fuck the Bass Player." Apparently they're serious about this.
-dave