Dachambo: Digital Hippies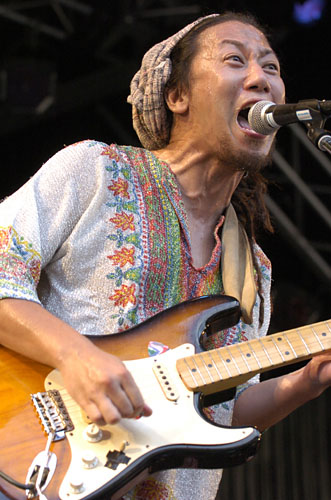 Hey Japanophiles, help me out here. In Japanese, is Dachambo one of those contracted, composite words, one that happens to mean "big jam band"? It might as well be.
The six piece group returns to Fujirock for the third time since 2005 (not counting a solo set last year by percussionist Yao), because somebody's got to keep the folks happy in the Field of Heaven, right? But don't let the tie-dyes fool you into thinking that these guys are some lost Deadhead tribute tribe, because like many J-jam bands, Dachambo is hybrid electronica, mixing digeridoo, two drum kits and electronic machines that produce that most raver-friendly of psychedelic musics, psy-trance. So on one hand, they channel 70s guitar rock for power, while on the other high bpm trance beats for zooming dancability (check out the song "Lama (Radio Edit)" on Myspace). But hippies, fear not, they will also invariably morph the dance tracks into flying, meandering and chime-filled sessions of Space. If you need to come down easy on Sunday, this may be your band.