Down on the Farm with J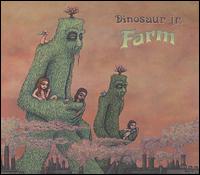 Dinosaur Jr releases new album today: Sounds like Dinosaur Jr. Great.
While other seminal indie bands from the late '80s/early '90s evolved — think Red Hot Chili Peppers or Soundgarden — Dinosaur Jr refined. I try not to get too romantic about bands, but there is something about the Boston band's quintessential slacker posture -- which made them seem to care little about whether fans cared -- that has led to a curious continuity and quality in their music. As All Music Guide succinctly said of their 2005 comeback, " 'Beyond' is not a breakthrough or reinvention, it's a consolidation of their strengths."
So depending on whether you like J Mascis's scruffy Neil Young attack, this is great or grating. I obviously go with with great — Mascis' guitar squalls make it feel like the sound is coming from five directions at once, and the reunited back up of Murph on drums and Lou Barlow on bass disappear in the perfect storm. You can listen to much of the latest album "Farm" on Dinosaur Jr's MySpace site (June 23 is the release date in the US and UK), and early reviews are consistently positive. (Download the single "I Want You to Know" from the band's own site.)
When Dinosaur Jr played Saturday on Fuji Rock's White Stage in 2005, it was great to hear them reunited and sounding as fresh as ever. This year pent up in the Red Marquee, the next chapter in the same book could see all hell break loose.
-- Donald